We have many beautiful trees up to 9 feet to browse through. You can cut yours or we can take care of that for you (saws, twine and tree netting provided). Shuttle rides are available, but you will find that strolling through the farm and along our trails is also enjoyable. On bad weather days, choose from freshly pre-cut trees. Table-top and discount trees are available as well.
A portion of proceeds from tree sales go to support Roanoke Valley Horse Rescue. Click Here for more information.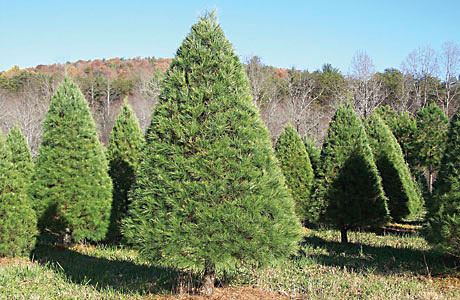 We specialize in traditional, affordable
White Pines
. They are slow-grown for a full shape and strong branches, with a soft texture, rich blue-green color and very good needle retention.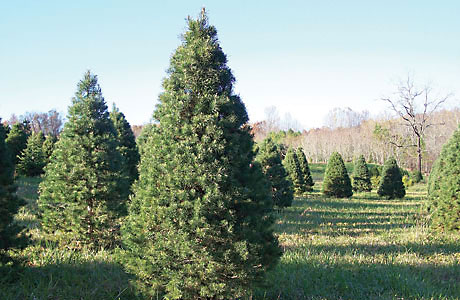 Scotch Pines
are a semi long-needled tree and have a more coarse texture with strong branches and excellent needle retention. Choose from a nice full shape or a more open-branched look.
Pricing for Choose & Cut and Fresh Cut Trees
White Pine

$30

Scotch Pine and Cypress

$35

Fir

$45 and up

Table top and discount trees available

Prices subject to Virginia State Sales Tax.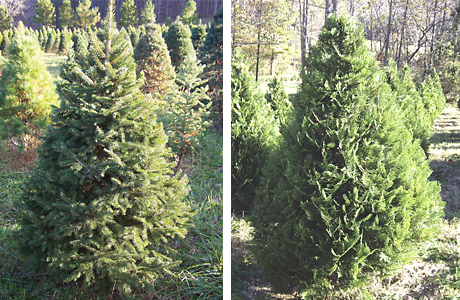 Canaan Fir
(left) has a rich aroma and open branching. These are limited this year, with most trees under 7 feet.
Murray Cypress
(right) is a full-shaped tree with soft, dense foliage and hidden strong branches for heavier ornaments.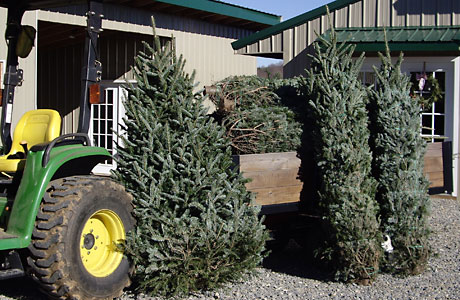 Fraser Firs
prefer a higher elevation than here at the farm, but we have fresh cut Frasers available for those who desire them.