WELCOME to White Horse Farm
We are nestled in rural Franklin County and centered in the Roanoke, Martinsville and Smith Mountain Lake area.

Owner Stuart Sours talks about the the biggest issue in raising Christmas Trees.
Although farm life and our horses keep us busy year round, we look forward to Christmas time when we can offer visitors the opportunity to come to the farm and perhaps leave with something that will make their Christmas more enjoyable, even if it's just the memory of the experience.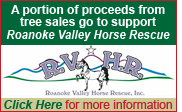 We have many beautiful trees to choose from, mostly White and Scotch pines up to 9 feet tall, and a limited number of fir, spruce and cedar.  We also have fresh cut Fraser fir and a variety of dug/potted trees. Our Gift Shop creates a warm atmosphere for gathering, sipping hot chocolate and looking over our gift items and wreaths.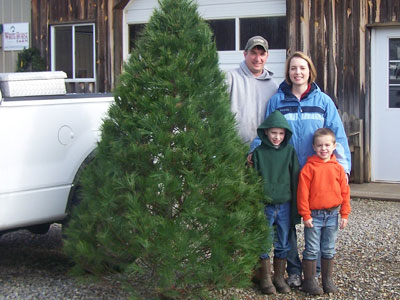 Please explore this site to see more of what the farm has to offer, and plan a trip to the farm this Christmas season.
Hours: Saturdays and Sundays, 9 to 5, from Thanksgiving to Christmas (plus the Friday after Thanksgiving and on weekdays by appointment).